Consultant Trauma & Orthopaedic Surgeon
Mr Arshad Khaleel
Orthopaedics
MBBS, MSc, FRCS, FRCS Tr and Orth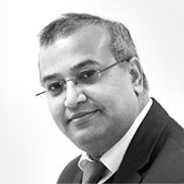 While Mr Khaleel is an expert in all aspects of trauma and orthopaedic surgery, including Paediatrics, he has a particular interest in primary hip replacement; knee replacement; treatment of all foot and ankle conditions; arthroscopy; trauma and limb reconstruction and sports injuries.
After completing his medical training at St Thomas' and Guy's Hospital, London, he obtained an MSc in Trauma and Orthopaedic Rehabilitation and Technology from the University of Dundee.
Mr Khaleel has been working at Consultant level in Surrey since 2002. As well as offering private patient services at Prime Health, he works as a consultant in the Ashford and St Peter's NHS Foundation Trust.
Mr Khaleel is also involved in research and in teaching new orthopaedic surgeons. He is an honorary senior lecturer at the Royal Holloway University of London and a college tutor for the Royal College of Surgeons.
Location(s)
Prime Health Surrey, Horizon Business Village, No 10 & 11, 1 Brooklands Rd, Weybridge KT13 0TJ