General health
Hot Topics in Healthcare, September 2022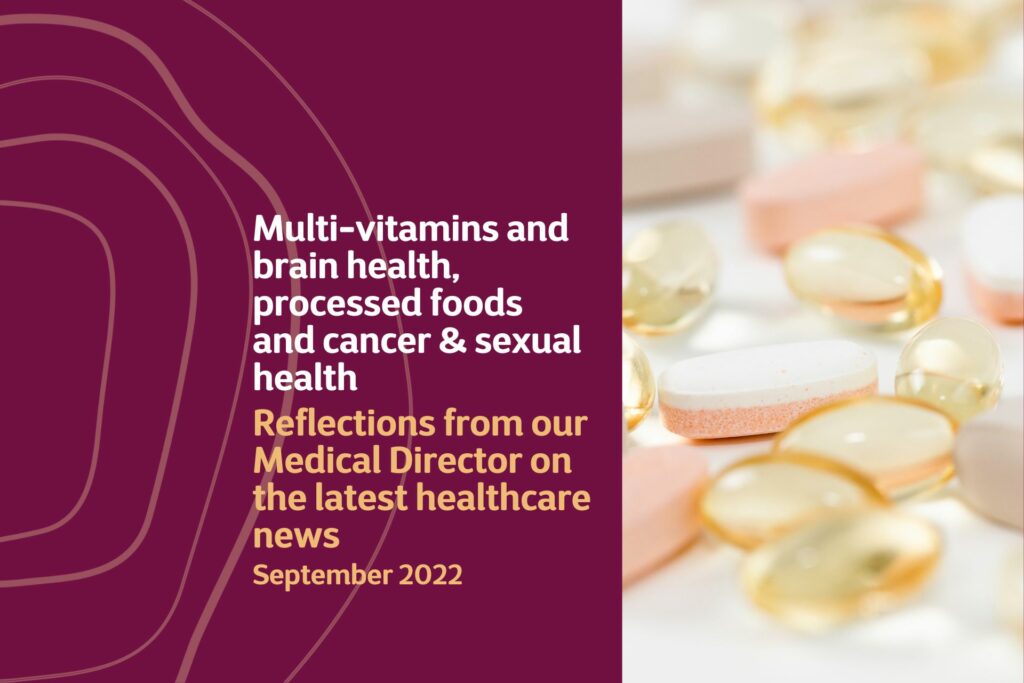 We start this month's blog with an article from the New Scientist (NS) that has attracted a great deal of attention.
Are multi-vitamins beneficial to your brain health?
For many years it has been generally accepted amongst the scientific community that taking multi-vitamins had little if any benefit on your brain health.
However, the New Scientist reports on a study by Laura Baker et al. from Wake Forest University in North Carolina that has kicked our previous views firmly into touch.
Baker undertook a three-year randomised trial covering just over 2200 people in the US between the ages of 65 and 100. The group were split into three; one group was given a pill containing flavanol (compounds found in chocolate and thought to be beneficial to health, the second group was given a multi-vitamin and mineral pill, and the third a placebo.
The groups were followed up for three years and then retested.
After three years, those who took the multi-vitamin and mineral tablet had a cognitive age that was 1.8 years younger than those who took the placebo. However, the flavanol group showed no such improvement.
The benefits experienced by the multi-vitamin group were also noted to be greater in those suffering from heart or vascular disease.
Previous studies failed to find any benefit; however, most were not randomised and were of poor quality. This was a randomised well, structured study. It is unknown which aspect of the multi vitamin or mineral tablets led to the improvement; however, this study is a significant development and now needs to be replicated in more detailed studies.
So, is chocolate good for your brain?
Sadly, it doesn't look like chocolate boosts your brain health; however, no need to ditch it yet. Everything in moderation.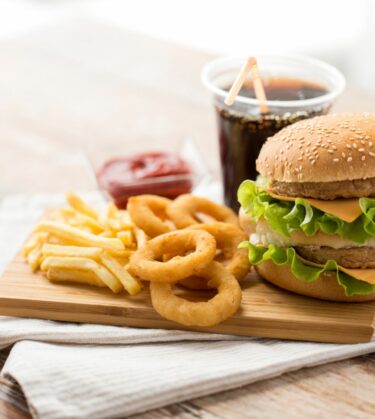 A couple of papers in the British Medical Journal (BMJ) have looked at different elements of our diet.
How great is the link between ultra-processed food and colon cancer?
The first is a study by Wang et al. that examined the association between ultra-processed food and colon cancer.
What is ultra-processed food?
Ultra-processed foods include ready-to-eat and ready-to-heat meals made from little or no whole foods. These currently make up nearly 60% of the total daily calories consumed by US adults. In addition, they are usually high in added sugars, fats and starch. Ultra-processed foods tend to have long lists of ingredients, some of which are unrecognisable.
The study sought to determine if there was an association between these food types and colon cancer. The research team reviewed data from several large-scale US databases, such as the Health Professionals Follow-up Study and the Nurses' health study. (These are long-term follow-up studies looking at many different aspects of people's lives.)
The research team identified over 3200 cases of colorectal cancer over a period of 28 years.
The results showed that those in the top 20% of ultra-processed food consumption had nearly a 30% increased rate of developing colorectal cancer compared to those in the lowest fifth.
Are all ultra-processed foods equal?
This increase appeared to be independent of the individual's body mass index. It was also noted that certain subgroups of ultra-processed food were linked to higher cancer rates, particularly ready-to-eat meat, poultry and seafood and sugar-sweetened drinks.
An increased rate was also seen in women who consumed high levels of ready-to-eat/heat-mixed dishes, but it was also noticed that yoghurt and diary-based desserts had a protective effect in women.
This is quite a detailed study as it looked at many different types of ultra-processed food. However, the message is clear that in men and some groups of women, there is a higher risk of colon cancer in those who consume high levels of such foods.
I'd like to say everything in moderation. But there is little doubt that much of what we eat has been messed around with added chemicals, sweetness, or fats. Most of the time, these additives are put in to improve what the manufacturers think we want, but fundamentally without any assessment of their long-term harm.
Do artificial sweeteners cause heart disease?
The second paper in the BMJ is by Debras et al. It looks at the association between artificial sweeteners and heart disease.
The team used existing databases and looked at over 103,00 individuals with an average age range from 28-56 years of age.
They found that the incidence of heart disease was nearly 10% higher in those taking artificial sweeteners and the incidence of stroke was almost 20% higher in the sweetener group.
This large-scale study clearly points to an association between artificial sweeteners and heart and cerebrovascular disease. So, something as simple and commonly used as a sweetener may profoundly affect your well-being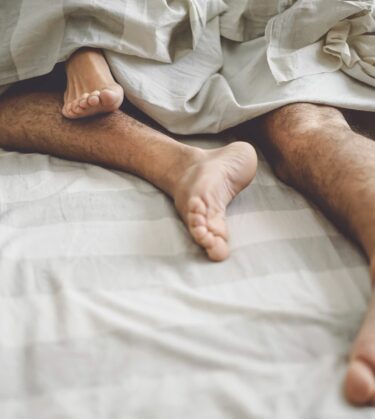 A word of warning on a risky sexual practice
I want to broach a really tricky subject that has hardly seen any coverage in the media but is one of the most-read papers on the BMJ website – the effect of anal sex on women.
This is an area that few are comfortable discussing, including doctors. The article was published in the BMJ several weeks ago.
Anal intercourse is becoming more common amongst heterosexual couples and is now considered mainstream. For example, the British National Survey of Sexual Attitudes and Lifestyle shows participation in heterosexual anal intercourse among 16 to 24-year-olds rose from just over 12% to 28% over the past few decades. This change has also been observed in the US, where 30-45% of men and women report an experience of anal sex.
This is thought to be due to the popularisation in TV shows and social media over the past decades, where anal sex has essentially been normalised.
Change in sexual norms is not unusual; however, the problem with this development is that it is not without risk to females. It is associated with abrasions, increased risk of sexually transmitted diseases, and, ultimately, increased anal malignancies. Women are also at a higher risk of developing faecal incontinence later in life due to the effect this type of sex can have on weakening the anal sphincters.
Unfortunately, it seems we are failing women on several levels. The most important aspect is that women are aware of the risks they run, allowing them to make informed choices. That requires a public health response.
Doctors also need to be more aware, and when women present with symptoms related to anal sex and not shy away from a supportive conversation.
There's no easy way to tackle this, but unless we start the conversation at many different levels, we will fail generations of women.
Related service(s)